Elena's Books
Check out Elena's Printable Book List
Timber Creek
Everyone deserves to fall in love again. With a past love...with their partner again after life throws a curve...with themselves...or even with someone new when you thought your time has passed.
Have YOU had your second chance?

* When We Left
* When We Were Us
*When We Began (Fall 2018)
* When We Fell (Winter 2018/19)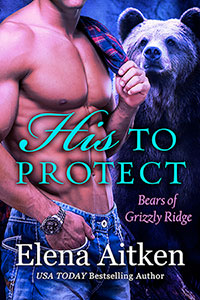 Bears of Grizzly Ridge
Sexy NEW Paranormal Shifter Series

When the Jackson brothers are exiled from their clan, they're determined to set up a new life on Grizzly Ridge.
The only problem?
A life of exile isn't exactly conducive to finding a mate, something every alpha bear craves. Whether they admit it or not.

This series contains: strong, sassy, curvy women; sexy alpha males; steamy shifters and sizzling sex scenes.

* His to Protect
* His to Seduce
* His to Claim
* Hers to Take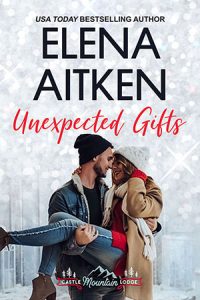 Castle Mountain Lodge
Fall in love at the Lodge!
Set in the beautiful Rocky Mountains, Castle Mountain Lodge is the perfect destination for falling in love.

In this 'sweet' romance series all the books can be read as individual stories, but are more completely enjoyed when read in order.

Book One - Unexpected Gifts
Book Two - Hidden Gifts
Book Three - Mistaken Gifts
Book Four - Secret Gifts
Book Five - Goodbye Gifts
Book Six - Tempting Gifts
Book Seven - Holiday Gifts
Book Eight - Promised Gifts
Stone Summit (The Springs)
Heat up the slopes at Stone Summit!
Three steamy stories set against the majestic backdrop of the magical Canadian Rocky Mountains that will make you believe in love again.

Like all of my books, The Stone Summit Series can be read independently of the rest of the series, but are even more enjoyable when you read them as a series. Catch up with your favourite characters with the rest of The Springs Series.

* Summit of Desire
* Summit of Seduction
* Summit of Passion
Vegas
What happens in Vegas, stays in Vegas....

Except when it doesn't!

Nothing Stays In Vegas— Face to face with memories of the past and the gorgeous man who started it all, Lexi can no longer deny the truth to anyone, especially Leo. But honesty will come at a price, and Lexi must decide if she's wiling to take that risk. And what exactly will she tell her husband?

Return to Vegas—Five years after being reunited in Las Vegas, Lexi and Leo have settled into domestic bliss.
Or have they?
While Lexi and Leo discovered that Nothing Stays in Vegas, the only thing that can bring their love back together again, is a…Return to Vegas.
The Springs
Slip into the Springs!
Fall in love with the people of Cedar Springs.
Nestled in a mountain valley on the edge of a crystal clear lake, a ski hill up the road, and an exclusive new resort opening, The Springs has it all. Including no shortage of love.

* Summer of Change
* Falling into Forever
* Second Glances (A Novella)
* Winter's Burn
* Midnight Springs
* She's Making a List (A Holiday Novella)
* Fighting for Forever ( A Novella)

Like all of my books, The Springs Series can be read independently of the rest of the series, but are even more enjoyable when you read them as a series.
Halfway Series
In the picturesque town of Halfway, Montana, life revolves around friends, family...and the latest town festival.

Join the women of Halfway as they navigate the trials and tribulations of life, love, family and friendship.

This women's fiction series is co-written with NY Times & USA Today Bestselling Author, Steena Holmes.

* Halfway to Nowhere
* Halfway in Between
* Halfway to Christmas (Holiday novella)
The Escape Collection
Take a break and escape into a story with this collection of stand alone titles.

Composing Myself—Novel
Whitney Monroe's always managed to compartmentalize her life, but when sexy singer-songwriter, Reid Phillips becomes her unlikely roommate, her two words are about to collide, and Whitney must make the decision to embrace who she is, or lose everyone and everything she cares about.

Drawing Free —Novel
"What would happen if I just kept driving?" Faced with the growing pressures of her daily life, and the realization that she's completely forgotten who she really is, Becca makes the split second decision to keep driving—leaving her life in the rear view mirror.

Sugar Crash—Novella
With her daughter facing a life altering diagnosis, single-mom, Darci must find the strength to face the illness head on, and even harder, let others in. Can she let down her walls long enough to embrace her new life?
~Based on real events~