I'm so glad you're here. I've always found a special kind of happiness in the mountains, which is why they are the perfect backdrop for my stories. The only thing I love more then the mountains, is writing stories about strong women who find their happily-ever-after with equally strong men. I hope you enjoy your visit and don't be afraid to fall in love in the Rockies.
Author's Note
Fall 2023
I love Fall!
(Okay, I love most seasons!)
But I really do love the cooler temperatures and the change in leaves. Up here, we have trees called Larch or Tamarack that are actually deciduous coniferous trees. They turn a bright yellow and lose their needles and truly they are the most beautiful thing! Walking through the trails getting covered in yellow needles is spectacular!
But enough about trees! Let's talk books!
Coming very soon is book 7 in the McCormick series! Our Forever Moment will be available on November 16, 2023 and is available for pre-order now!
I'm in the middle of writing Always Be Mine, the third in the Trickle Creek Series and I'm excited to give you more details on that one.
Until then, enjoy the season and remember, if you're looking for the best deals on my books, check out: www.elenaaitkenbooks.com
Elena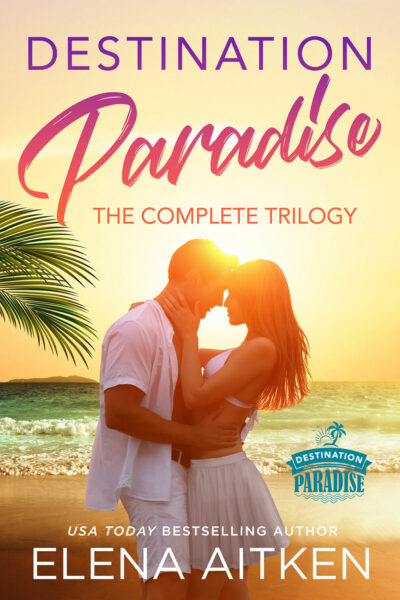 Take a trip to Paradise with all three books in one gorgeous package! Hit the beach ,take a trip and set sail with USA Today Bestselling Author, Elena Aitken and the sexy, sun soaked Destination Paradise series, set on the white sand beaches, and crystal blue waters...
read more
Keep In Touch
I would LOVE to connect with you! And as a special gift to you for opting in to hear about my books, freebies, sales and other interesting things—usually about love or my very own 'Mountain Man'—I have some free gifts for you including some insider secrets….a free exclusive short story….and…well you'll just have to wait and see!!