I'm so glad you're here. I've always found a special kind of happiness in the mountains, which is why they are the perfect backdrop for my stories. The only thing I love more then the mountains, is writing stories about strong women who find their happily-ever-after with equally strong men. I hope you enjoy your visit and don't be afraid to fall in love in the Rockies.
Author's Note
September 2020
Don't miss the Romance on Main Street FREE box set!! We've had a bit of trouble with the price matching on Amazon, BUT this box set is now FREE! Grab it today! This is a limited time only.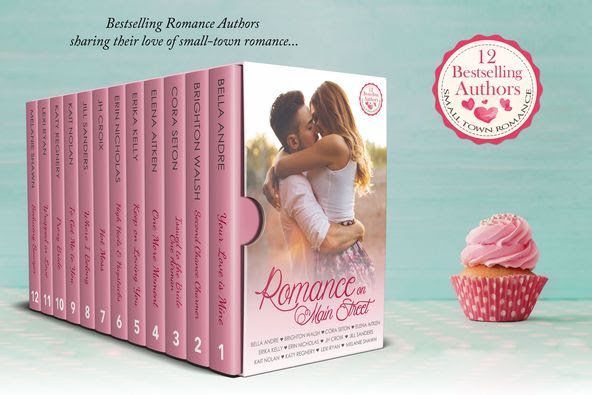 Romance on Main Street is a limited time boxed set with twelve full-length novels from bestselling and award-winning authors.
Bella Andre * Brighton Walsh * Cora Seton * Elena Aitken * Erika Kelly * Erin Nicholas * JH Croix * Jill Sanders * Kati Nolan * Katy Regnery * Lexi Ryan * Melanie Shawn
⭐⭐⭐⭐⭐
FREE for a limited time ONLY!
APPLE • AMAZON • KOBO • NOOK • GOOGLE
You can join us on Facebook for even more fun HERE.And Sign up for our newsletter HERE.
You're not going to want to miss this because starting very soon we'll be offering all sorts of goodies to our newsletter list!!