Elena is excited to announce that, The Escape Collection, is back on all platforms for purchase. If you haven't already had a chance to read these books, now is your chance.
Composing Myself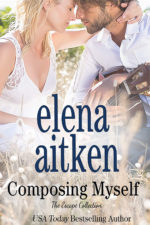 Whitney Monroe's not ashamed of the way her mother can work a brass pole, not really. It's just that some things are better left unsaid; especially when your mother's a stripper and you're trying to get a job at a prestigious private school that definitely won't appreciate her talents.
Raised by her grandma, Whitney's always managed to keep her two worlds separate, even if it meant lying to everyone. And when Reid Phillips—a charming, sexy songwriter—becomes her not-entirely-welcome roommate, Whitney has no intention of telling him the truth either. But she wasn't excepting Reid to see right through her and challenge her compartmentalized life.
With Grams seriously ill, her mother's life in turmoil and her dream job on the line, it's more important than ever for Whitney to keep everything together. But that will mean being honest with everyone, starting with herself.
Available for/from Kindle, Apple Books, Google Play, Kobo, and Nook.
Drawing Free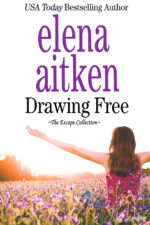 Women's fiction that every woman can relate to—even if she doesn't want to admit it…
"What would happen if I just kept driving?"
Moms aren't supposed to have a life of their own, at least that's what Becca Thompson believes. Between dealing with her youngest's never ending tantrums, her teenager's attitude and her ailing father's rapidly failing memory, Becca doesn't have time to worry about who she used to be.
Deep down, Becca knows she wants more than the daily chaos and the quick fixes her self-help books have to offer, but when her husband starts demanding more, the pressure proves to be too much. On the way to pick up her daughter, she makes the split second decision to take a different exit off the freeway and drives towards the mountains leaving her crumbling life in the rear-view mirror.
Fleeing to a remote mountain town, Becca knows she must rediscover her spirit, even if reconnecting with herself comes at the expense of everything she left behind.
Available for/from Kindle, Apple Books, Kobo, Nook, and Google Play.
Sugar Crash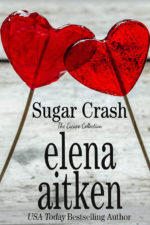 A story about the strength of one woman and the power of her relationship with her daughter as they overcome life's obstacles.
She's been on her own for so long that when Darci Thompson's 12-year-old daughter, Taylor, is diagnosed with a life changing illness, she must push past her self imposed walls to prove that Diabetes won't define them.
With the help of new friends and Cam, a man who believes in her, Darci finds the strength to challenge the stereotypes and make a difference for her daughter. But letting Cam get close also means being vulnerable. Is Darci willing to face her own demons and take that risk once again?
Available for/from Kindle, Apple Books, Nook, Kobo, and Google Play.
The Escape Collection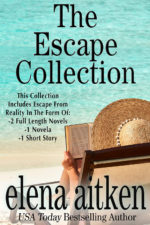 Available for/from:
Kindle,
Kobo,
Apple Books,
Nook, and
Google Play
A collection of books from The Escape Collection including Composing Myself, Drawing Free, Sugar Crash and Neighbors.