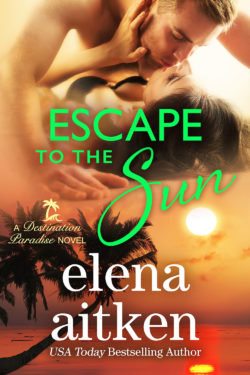 Escape to the Sun is now available for/from Kindle, Apple Book, Kobo, Nook, and Google Play.
Paradise is the perfect place to hide, but can a troubled past ever be left behind?
When Heather Holt's marriage falls apart she longs for a change of scenery and jets off to the remote archipelago of Bocas del Toro where everyone has a story they'd rather forget. Taking a job managing a secluded bed and breakfast in the middle of paradise is the perfect place for Heather to start over and the sexy surfer who always seems to be hanging around only adds to the appeal.
Ash Anderson has spent the last few years running away from his past and hiding out where no one knows him—or can get close enough to try. He may be a player but that's only because the last thing Ash needs is a relationship. It's too dangerous. But when Ash meets the sexy brunette who manages Casa del Sol he begins to feels things he hasn't felt in a very long time and start's to want things that are impossible.
Heather's not ready to get involved with anyone so quickly after her divorce so a tryst with the hot, enigmatic loner might be perfect. But when the intensity between them heats up beyond either of their control, life in paradise gets stormy and everything that matters is on the line.
Can Heather let down her guard long enough to allow new love into her life? Can Ash escape the danger of his past or will loving Heather destroy both of them?