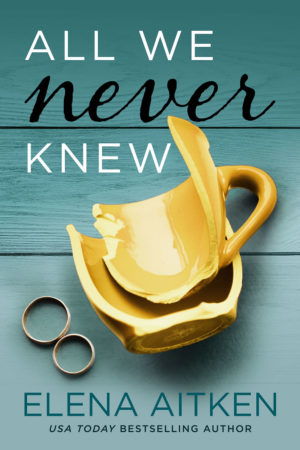 I've been working on this book for YEARS and I' so excited that it's almost time for you to read it…finally!
Add ALL WE NEVER KNEW to Goodreads
Pre-Order ALL WE NEVER KNEW on Apple Books
As far as Maren is concerned, life is perfect and it's just about to get better. On the cusp of her fortieth birthday and with her only child almost grown, it's time to start putting herself and her marriage first. But when the butterflies in her tummy turn out to be morning sickness, Maren's world is flipped upside down with an unplanned, high risk pregnancy—one she's ashamed to admit is unwanted.
Overnight, everything changes and the ripple effect of the baby she's so unsure of is felt in every corner of her life. Her perfect life slowly disappears. Her teenage daughter looks for attention in the wrong places. Her best friend inexplicably blows up and stops speaking to her. And worse, her once doting husband pulls away when she needs him the most.
Just when she's sure things couldn't possibly be worse, a shocking discovery rocks Maren's world. Faced with a devastating deception, a truth she can no longer ignore, and an impossible choice, can Maren stop her life from completely unraveling? Or is All We Never Knew too much for love to overcome?