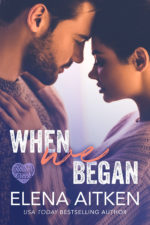 Be sure you're the first to read the latest in the Timber Creek Series!
When We Began is finally up for Pre-Order!
Pre-Order When We Began from/for Kindle, Apple Books, Nook, Kobo, and Google Play.
I absolutely love this different take on a second chance story. Not only does Amber get a second chance for love…but also—and perhaps more importantly—for love.
I hope you love her story as much as I do.