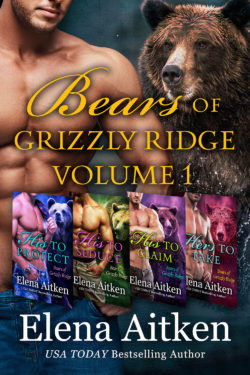 I fell in love with writing bear shifters in a most unexpected way, and it all had to do with meeting my very own Mountain Man.
He came along at a time in my life when I was going through a major life change. Newly divorced and a now single mom, I was in desperate need of a shakeup. Both personally and professionally! Mountain Man definitely shook things up and with his encouragement, I decided to write a bear shifter series!
And I'm so glad I did! I had so much fun writing these books and they were just the thing I needed to get excited about writing and romance again.
I know a lot of my readers only read contemporary romance and I totally get that. BUT…if you feel so inclined to take a chance on the Bears…I think you just might fall in love with these sexy mountain men the way I fell in love with mine!
BEARS OF GRIZZLY RIDGE VOL. 1 is available for/from Kindle, Kobo, Nook, Apple Books and Google Play.