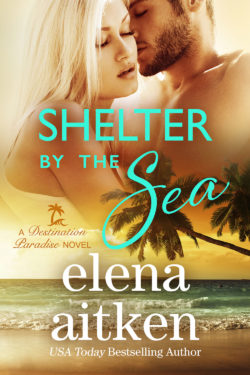 Shelter by the Sea is now available for/from Kindle, Apple Books, Kobo, Nook, and Google Play.
Add to GoodReads
He's determined to leave his past behind. She's committed to a new and better future. But a guarded heart and an inability to trust may be too much to overcome, even in paradise.
A mountain man through and through, Archer Wolfe never imagined he'd be willing to give up rocky peaks and pine trees for white beaches and rainforests. But sometimes leaving your life behind to start over where nobody knows you is the only solution. And that's exactly what he's trying to do and the pretty little blond in the tight tank top just might be the person to help him stay. Working together to run a charter business on her sailboat seems like the perfect solution for both of them, at least it would be if he could convince her to give in to the growing heat between them because it's only getting harder to ignore the attraction between them that's quickly becoming more than just physical.
Cass Cutler's life is full—of nothing. Unless you count a dead end job and a pathetic excuse for a relationship with her boss—and she doesn't. So when she gets word that her father, whom she hasn't seen in twenty years, is presumed dead, and she's the new owner of his yacht located in Panama, she jumps at the chance for a change. And what better place for a new start than the picture perfect beaches and crystal clear water of the San Blas Islands, especially when they come complete with a unreasonably gorgeous man who's become the star of Cass's very naughty dreams. And her dreams are exactly where he should stay, because the last thing Cass wants or needs, is another man in her life who's just going to leave. Now all Cass needs to do is figure out a way to keep their increasing attraction from distracting her as she attempts to save her inheritance—and her heart—before she loses everything.