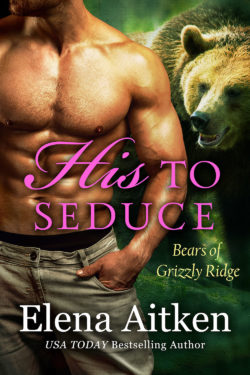 She's spent her whole life running. This time…he might just be the reason she stays.
His to Seduce, the second book in the Grizzly Ridge Series, is available on all platforms today!
Now Available from/for Kindle, Apple Books, Nook, Kobo, and Google Play.
Add to Goodreads
What people are saying:
"This is the second one book of this series and I enjoyed it as much as the first. I would recommend this read for anyone who loves a good romance with a little mystery thrown in." —Amazon rdwg52
"I really enjoyed reading this book and couldn't wait to read the next one. Elena did a great job getting you invested in all the characters not just the main couple, so you were invested in the next book before you finished the first. No plot breakdown because I don't want to spoil anything. I want you to get it and see for yourself. If you like shifters, 3 hot brothers that deliver humor, and romance mixed with hot hot hot this is for you. I promise you will enjoy!" —Amazon mlowe
About His To Seduce
Chloe Karrington has spent her life running from the idea of needing a man, let alone a mate. After all, she's an independent career woman, a man would only get in the way. Besides, she's never met anyone who was worth the time.
That is until her work as an environmental researcher takes her to Grizzly Ridge and directly into the path of the way too sexy, way too intense, Luke Jackson. If her instincts have anything to say about it, he is most definitely worth something.
Chloe's determined to get him out of her system, something that turns out to be a whole lot easier said than actually done. But when she makes a discovery on the Ridge that changes everything and could ruin the Jackson brothers and the Ridge, not only is her professionalism put to the test—so is her heart.
Reader note: His to Seduce is a full length stand alone bear shifter novel and the second in the Grizzly Ridge Series. No Cliffhangers! This series contains: strong, sassy, curvy women; sexy alpha males; steamy shifters and sizzling sex scenes.
Bears of Grizzly Ridge
His to Protect — Now Available!
His to Seduce — Now Available!
His to Claim — Coming Soon!