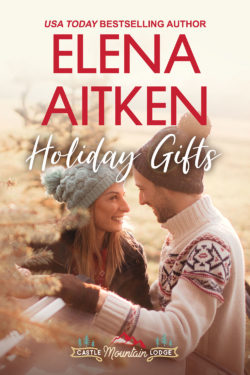 Ever since Ryan Morrison has taken over as Customer Service Manager at the famous Castle Mountain Lodge he's witnessed the 'magic of the Lodge' and couples of all kinds falling in love around him. Is it the backdrop of the majestic mountains? Or maybe just the luxuriously rustic setting? Either way, Ryan's convinced it won't ever happen to him.
For Julie Pitts her number one focus has always been raising sixteen-year-old Shay. Julie would do anything for her daughter, including organizing a special Christmas crafting retreat at Castle Mountain Lodge as a way for them to spend the holidays in the mountains the way her daughter has always wanted.
Shay has also always wanted her mother to fall in love and when she sees a potential love match between the handsome manager and her mom who is long overdue for some romance in her life, she sets out to give the 'magic of the Lodge' a little festive help. After all…what's more romantic than Christmas at Castle Mountain Lodge?
Holiday Gifts is now available from/for Kindle, Apple Books, Nook, Kobo, and Google Play.
What people are saying:
"This is one of the best books that I have read this year. This book is a must read, there is no doubt about it."
"If you believe in Christmas magic and you're a romantic, then you should read this book."