The Latest from Elena
Melissa Storm's new release of Love's Promise
Check this out!  A great author friend is celebrating the release of her new book, Love's Promise!  Make sure you get your copy today!!  It will be available for $0.99 until March 12, 2017!  After that the book will be at $4.99!! Fans of Castle Mountain Lodge will enjoy this book!!
About the new book:
She's waiting for her prince to come … but was he right beside her all the time? Kristina Rose Maher wants to know why fairytales never happen for fat girls. Certain that diner cook Jeff, handsome and fit, will never want her as more than a friend, she stuffs down her attraction to him. But when she finds herself facing a life-altering weight loss surgery, she discovers she's willing to do whatever it takes to embrace life — and love — to the fullest.
Jeffrey Berkley can't bear the thought of losing the friend he's only just beginning to realize matters so much to him … no matter what size she is. But he is also terrified that helping her reach for her dreams will also mean finally reaching for his own — and letting down his family's legacy in the process.
Both Kristina Rose and Jeffrey must learn to love themselves before they can find a way to make a promise to each other. Will they finally be able to lay their heavy burdens at the Lord's feet, and trust him to bring the happily-ever-after they both crave?
Don't miss this sweet tale of faith, love, and gastric bypass – get your copy of Love's Promise today!
Author Bio: 
Melissa Storm is a mother first, and everything else second. Her fiction is highly personal and often based on true stories. Writing is Melissa's way of showing her daughter just how beautiful life can be, when you pay attention to the everyday wonders
that surround us.  Melissa loves books so much, she married fellow author Falcon Storm. Between the two of them, there are always plenty of imaginative, awe-inspiring stories to share. When she's not reading, writing, or child-rearing, Melissa spends time relaxing at home in the company of her four dogs, four parrots, and rescue cat. She never misses an episode of The Bachelor
or her nightly lavender-infused soak in the tub. Because priorities.
Thank you for the support!!
*~* GIVEAWAY ALERT *~*
Thank you!!! I just hit over 4,000 likes on my Facebook page!!
My first book, Nothing Stays in Vegas started it all so it's kind of cool that I'm currently in Las Vegas this week!
To celebrate I'm giving away a Vegas Prize Pack; some really cool Vegas souvenirs, a signed book AND a $10 Amazon gift card!! All you have to do is comment below and tell me what the first book you read of mine was!
Super easy and for good karma, tag a friend who you think would like to read that book for an extra entry!! Thank you again so much for all the support!!! The contest will be open until March 5th at 4PM MST.
Head on over to my FACEBOOK page to enter this contest.
His to Protect – FREE March 1-31st
With the fourth book in the Bears of Grizzly Ridge series about to be released (March 23, 2017 expected release date), get your copy of the first book in the series His to Protect NOW!!!  It's free on all the sites.  If you have never tried a paranormal romance now is your chance to give it a go as it's FREE so you have nothing to lose!  But I promise you will be hooked after the first book!!
Here are what some people are saying….
"I wasn't sure about reading this story. I'm not really a fan of paranormal stories but since I love anything by Elena Aitken, I was willing to give it a chance. I'm so glad I did!!" ~ Pam D Amazon.com
"Didn't want to put the book down. Got the next two in the series as fast as I could. I think grizzly shifters are now my favorite." ~ Kari W Kobo.com
"I feel in love with the men in this book! Love the plot and the characters! Thank you for moving me past vampires and werewolves. You are one of my new favorite authors." ~ Teresa Nelson Googleplay.com
"I thought this would be another bear resort story but I was pleasantly surprised.  Exciting story line and a terrific romance.  I'd like to read the rest of the series." ~ Jossielou iBooks
"Loved the whole story. That instant attraction and desire when Axel found his make was intense." ~ Anonymous Nook.com
Don't miss out on this story!!  Grab your copy today and let me know what you think!
Available NOW Escape to the Sun
Amazon – http://smarturl.it/escapesunamz
iBooks – http://smarturl.it/escapesuniBooks
Kobo – http://smarturl.it/escapesunkobo
Nook – http://smarturl.it/escapesunNook
Google Play – http://smarturl.it/escapesunGP
Paradise is the perfect place to hide, but can a troubled past ever be left behind?
When Heather Holt's marriage falls apart she longs for a change of scenery and jets off to the remote archipelago of Bocas del Toro where everyone has a story they'd rather forget. Taking a job managing a secluded bed and breakfast in the middle of paradise is the perfect place for Heather to start over and the sexy surfer who always seems to be hanging around only adds to the appeal.
Ash Anderson has spent the last few years running away from his past and hiding out where no one knows him—or can get close enough to try. He may be a player but that's only because the last thing Ash needs is a relationship. It's too dangerous. But when Ash meets the sexy brunette who manages Casa del Sol he begins to feels things he hasn't felt in a very long time and start's to want things that are impossible.
Heather's not ready to get involved with anyone so quickly after her divorce so a tryst with the hot, enigmatic loner might be perfect. But when the intensity between them heats up beyond either of their control, life in paradise gets stormy and everything that matters is on the line.
Can Heather let down her guard long enough to allow new love into her life? Can Ash escape the danger of his past or will loving Heather destroy both of them?
What do you want to read next?
Elena's 'to-write' list is always growing and she has a lot of new projects on the go this year.  Which series can you NOT wait to read about?
Take the short quiz now!!!  TAKE ME THERE
Escape the winter blues….
Jump into The Springs with the first in the series… Summer of Change.  Free now for a limited time!
With the Springs resort set to open in mere weeks, Trent Harrison needs to stay focused and see to every detail. The last thing he needs is a complication, even one that comes in the form of sexy bar owner, Samantha Burke. Samantha loves her quiet close-knit community of Cedar Springs, just the way it is. The addition of a fancy new resort as well as its arrogant owner, and the change they're both sure to bring, is certainly not welcome. With Trent pushing his way into her town, and her life, Samantha's resistance to him wavers in the face of the passion and heat they share. Change is inevitable, but can either of them drop their guard long enough to accept it when there's so much on the line? (love story, contemporary romance, alpha heroes, beach reads, sexy romance, holiday romance, falling in love)
**Summer of Change is part of a series, but as with all of my books, can be enjoyed as a stand alone. Don't miss Falling Into Forever, the next story in the Springs series. And for more holiday romance in the Rockies, check out the Castle Mountain Lodge Series.**
Audiobook Giveaway #snowaudio
Come join me on Facebook from Dec 1-15th, 2016 to enter for your chance to win an audiobook!!  I will be doing giveaways daily so come back often to enter!  Go to my FACEBOOK PAGE to enter!  And don't forget to search #snowaudio for other amazing authors giveaways as well!
Going for the Moment
Don't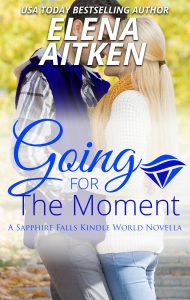 miss out on Elena Aitken's new novella, Going for The Moment!
Available now only on Amazon US for $1.99!!!
This book is a part of A Sapphire Falls Kindle World Novella!  Don't forget to check out the other amazing books in this Kindle World!!!
Amber McCormick has always lived a well ordered life. She's made sure of it. Now, with a new college degree in hand, she decides to take a few days to visit her best friend in Sapphire Falls before starting the next phase of her life. It's perfect timing too, since for the first time in her life, Amber's no longer sure of her plan.
However, a mix up in timing results in her crashing with her best friend's wild—more than a little rough around the edges—brother and Amber suddenly finds her predictable life turned upside down.
Taking a break from the backcountry of Australia, Cole Price is home to visit his little sister. But he definitely wasn't prepared to find her very attractive and very tightly wound best friend, Amber there instead.
Stuck together for a few days, they decide to make the best of the mix up and take in the town's Fall Festival. All Amber wants is to have a little fun and maybe even lighten up a little bit. The last thing she expects is to be attracted to a man like Cole, and she's definitely not prepared to actually fall for him. Now after only a few days, Amber's questioning everything she ever thought she wanted and what she really needs.
Sapphire Falls!

COME TO SAPPHIRE FALLS!
Welcome to SAPPHIRE FALLS—a tiny Midwestern gem overflowing with small-town charm. Visitors are encouraged to enjoy happy hour at the Come Again bar, a tasty treat at Scott's Sweets, a country-music-infused party at the river with a mason jar of legendary Booze, or even join in the fun at one of the annual town festivals, where the locals specialize in making you feel right at home.
But fair warning: Love is always in the air, and visitors tend to fall quickly—for the town and its inhabitants. You may not be looking for happily ever after…but in Sapphire Falls, happily ever after might come looking for you.
Start with the original series by Erin Nicholas:
Getting Out of Hand (Book 1 – Adrianne and Mason)
Getting Worked Up (Book 2 – Phoebe and Joe)
Getting Dirty (Book 3 – Lauren and Travis)
Getting In the Spirit (Christmas novella, Kate and Levi)
Getting In the Mood (Valentine novella, Kate and Levi)
Getting It All (Book 4 – Delaney and Tucker)
Getting Lucky (Book 5 – Hope and TJ)
Getting Over It (Book 6 – Hailey and Ty)
Getting to Her (Book 6.5 – Hailey and Ty)
Getting to the Church On Time (Wedding novella – all)
Getting His Way (Book 7 – Tessa and Bryan)
Getting Wound Up with author Jennifer Bernard (Caitlyn and Eli)
Then move on to these amazing Sapphire Falls reads from Kindle Worlds:
October 2016 Release
Going Back to Find You – PG Forte
Because even vampires deserve a second chance.
Going Crazy for You – Allison Gatta
Getting her help is going to be a lot easier said than done…
Going for Brook – Kinsey Holley
He can't live with her, he can't leave without her.
Going for the Moment – Elena Aitken
Sometimes opposites don't just attract, they collide.
Going for Wilder – Trish Edmisten
It's been ten years since Jackson walked away from the only woman he ever loved. Maybe it's time to get her back.
Going Haywire – Rachelle Ayala
Vampires, zombies, and wolves, oh my! Honey's vacation with her ex-husband goes haywire. when he tries too hard to get her back.
Sometimes what your heart is searching for is never far from home.
Ember Jones-Roseman needs a reminder that life is about the journey, not the destination, and Ford Slater is the perfect man for the job.
Going the Extra Mile – Katy Alexander
Small town. Big hearts. But can one little secret tear it all apart?
Going to be Yours – Samantha Chase
They've been in an intimate relationship for three years, they've just never met.
Going to the Castle – Angelique Armae
A rebellious aristocrat looking for love…    Meets a noble rebel worthy of his heart…
Love at first sight, or a past they don't remember?
We're Going to Make It – PJ Fiala
In the security business things can happen fast – the same is true in the business of love.
May 2016 Release
Going All the Way – Suzanne Rock
Going Down Hard – Rhian Cahill
Going for a Ride – Kylie Gilmore
Going My Way? – Samantha Chase
Going Out on a Limb – Lizbeth Selvig
Going Rate for Mr. Right – Jessie Evans
Going To Find Temptation – Melanie Shawn
Love in the Moment
The McCormicks are HERE!
I've received so many questions about this book and I'm so excited to let you know that Ian McCormick's story is finally here!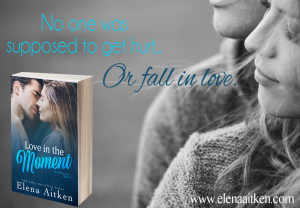 This is a stand alone, HEA book. It's the first in The McCormicks series, and a spin off of the The Springs (so you might see some familiar characters!)
Amazon – http://smarturl.it/loveinmomentAMZ
iBooks – http://smarturl.it/loveinmomentiBooks
Kobo – http://smarturl.it/loveinmomentKobo
Nook – http://smarturl.it/loveinmomentNook
GP – http://smarturl.it/loveinmomentGP
Goodreads – http://smarturl.it/loveinmomentGR
« Previous Page
—
Next Page »