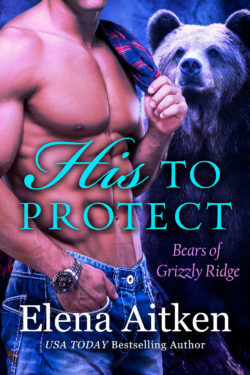 Did you pick up your copy of Hers to Take?  Is this the first you have heard of this series?  Don't worry, the first book of Bears of Grizzly Ridge is FREE until March 31, 2017!!  Make sure you download that book before the end of the month.
His To Protect is available for free from/for Kindle, Apple Books, Kobo, Nook, and Google Play.
When Harper Bentley's life begins a death spiral, she does what any self respecting woman would do—she heads for the mountains. More specifically, Grizzly Ridge. A brand new—and very remote—lodge in the wilds of Montana. The last thing she expects to find there is deliciously sexy Axel Jackson, who is more than a little wild himself and reigniting feelings she'd long since buried.
From the moment he lays eyes on her, Axel knows Harper is more than just a guest at his lodge. Much more. Every bear shifter has a mate. She's his. And whether his brothers believe in fated mates or not, nothing will keep Axel from what is his. But first he'll need to convince Harper that what she's feeling is more than lust. It's fate.
Reader note: His to Protect is a full length stand alone bear shifter novel and the first in the Grizzly Ridge Series. No Cliffhangers! This series contains: strong, sassy, curvy women; sexy alpha males; steamy shifters and sizzling sex scenes.