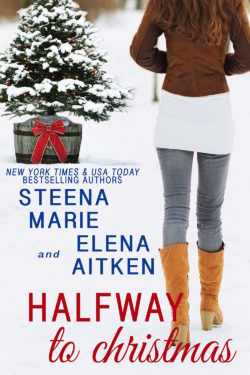 Available now only on Amazon and Kindle Unlimited.
Christmas has always been one of the busiest times of the year for the women of Halfway, Montana, and this year is no exception.
It's barely been a year since Nikki Landon and her son, Ryan returned to town. But a lot has happened in such a short time, and this year, with her new love by her side, the holidays are set to take on a whole new meaning.
Despite how busy Becky Jennings and her husband Matt are running their tree farm, Christmas has always been a time for love, laughter and…baking. Now, with a baby on the way, their lives are about to change—but is all the stress starting to take its toll?
Melissa Tait has spent the last nine years celebrating the holidays without her husband Wade. Now that he's returned, the whole family has a lot of adjusting to do. But is it too much?
After ten years away, Nyah Henderson has finally returned to Halfway to take over her father's medical practice. As happy as she is to be home, small town life can be tough. Maybe the holiday season is just what she needs to find her way?
Join the women of Halfway, Montana as they celebrate love, friendship and the benchmarks of life this holiday season while learning some hard life lessons along the way.