Your Body – A love/hate relationship
Posted Mar 13 2012, 11:52 am in accepting your body, body acceptance, body love, body parts, crossfit, elena aitken, fit or fat, like your body, loving your body, Real Life, triathlon
A show of hands please – How many of you LOVE your body? I mean, really love it. Every little thing about it. All the good stuff, the bad stuff, the jiggly bits, the muscly bits, ALL of it. Come on, raise your hands up high.
Obviously, I can't see into your computer. (that would be weird) BUT I'm willing to bet that there weren't a whole lotta hands up in the air. The reality for many of us is that we may love or really like some parts of our bodies, but hate other parts. For women in particular, body love, complete body love, is hard. VERY hard. There's a million reasons for body image issues, and I'm not going to get into them right now. I think for each of us, we have a pretty good idea where they come from. But I do want to talk about trying to love our bodies, even when we don't like all of the parts.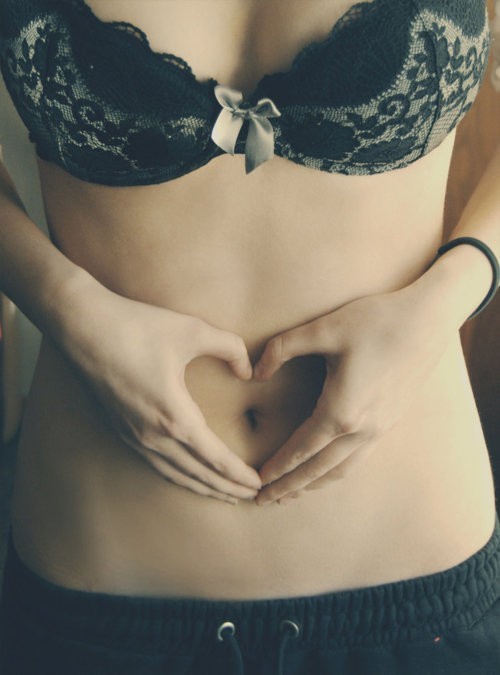 I had a moment this summer. One of those moments where you have to stop and think, "Holy shit. What am I thinking?" This past July I completed my very first Olympic Triathlon. It was a huge goal for me. One that I wouldn't have ever considered even attempting just a few short years ago. I shared the experience with my bestie Deb, and for both of us, it was absolutely a day of pride and celebration.
Later that night however as we were relaxing and resting on the deck, we flicked through the pictures taken during the event. For both of us, our mood changed. Sure, we were still proud and excited, but now it was tampered with how we felt we looked in the photos. The strong powerful athlete I felt like while I was swimming, biking and running, well, that's not what I saw in the pictures.
My mom, hearing us bitch and moan, stopped and said, "I can't believe what I'm hearing. You two just did something amazing. You should be proud of your bodies, not criticizing them."
She was right. REALLY right.
Did what she said that day change how I felt about myself when I looked in the mirror? No, not totally. But it got me thinking. And I've been thinking ever since.
My body is not perfect. FAR from it. But I'm finally coming to a place where I love it. I still don't like some parts of it, but as a whole, I am finally starting to love my body. Because really, I've put my body through a lot in recent years, and not only does it perform, it excels. Sometimes they're little accomplishments, sometimes they're huge, but the one thing I know for sure is that MY body accomplished them.
Carry, grow and nurture two babies? MY body did that!
Push through two and a half hours of swimming, running and biking in the mountains? MY body did that!
Hikes through mountains and rainforest with my kids? MY body does that!
Did a handstand at Crossfit? Oh, ya..MY body did that!
Spends the day skiing with my family? MY body can do that!
When I stop to think about all the things, athletic or not, that my body can do…it's amazing. Am I size four? Uh, no. Do I look like the 'typical' triathlete or runner? Nope. Are there things I don't like and want to change about my body? Absolutely.
BUT…if I dwell on all the things I don't like or the parts that I want to wave a magic wand over, I'll drive myself crazy. And, I'll miss out on all the kick ass stuff my body can do right NOW.
It's not always easy, but why shouldn't we love our bodies now? RIGHT now! Not in two months after we diet. Not when we can finally fit into that dress we've been eying. NOW.

It's hard, I get it. I struggle with it. It's a work in progress for sure. One I work at everyday. But that's all you can do really…keep working on it and maybe one day, if I ask the same question, "How many of you LOVE your body?" There will be more hands in the air.
___________________________
So, come on, share. It's good for you, I promise. Tell me and the world (or whoever reading) what you LOVE your body for.
____________________________
And hey, while you're here…sign up for my author newsletter. The link is right up at the top of this page. I promise not to flood your inbox. You'll only hear from me when there's exciting book news to share. So be the first to hear about a new book, get a coupon code and other extras!
Comments