Why Tri…Again?
Posted Jan 23 2013, 7:43 pm in do-over, elena aitken, elena author, elena triathlon, olympic triathlon, Tri Me, tri me, triathlon training for real women
Last week (or was it the week before?) I came clean about my goal to train for an Olympic triathlon. And I appreciate all the support, thanks everyone!
One of the questions I've been asked is, "Why another Olympic Tri? Why not kick it up a notch?" Okay, fair question. Why am making Olympic triathlons my big goal this year instead of going bigger? Why not an Iron Man? Why not a half Iron Man? Okay, first…come on people! Be serious. But really, the reason is  simple…I want to do better.
Two years ago I did my first (and only) Oly tri. (Like that? I'm finally learning the slang!) And sure, I was happy that I'd finished it. I mean, that's pretty huge right there. BUT…cause there's always a but…I wanted to do it better. When all was said and done, I really evaluated my performance and said, "Ummm…no."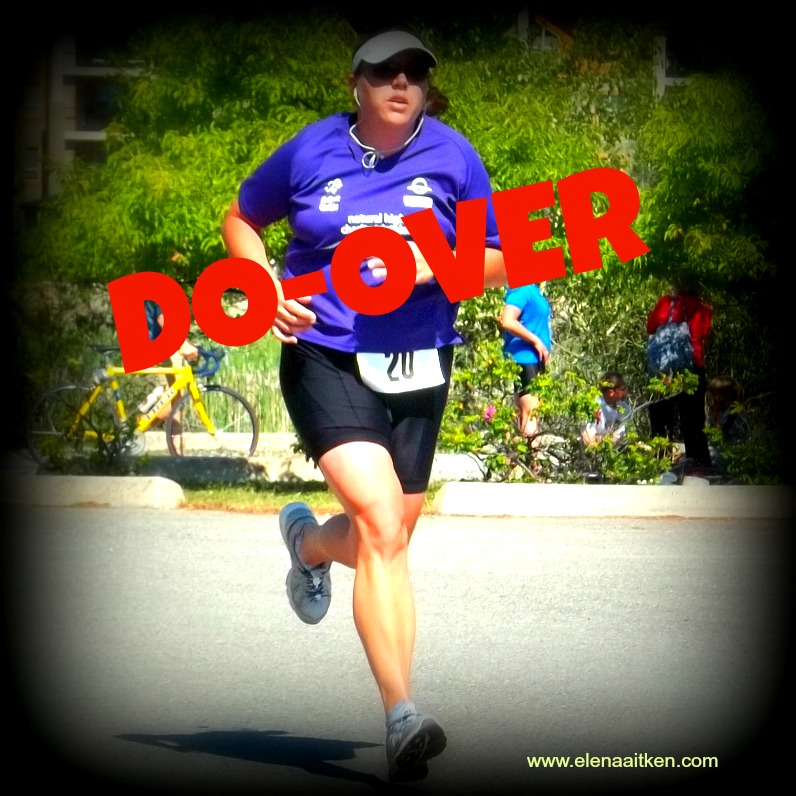 Don't get me wrong, I was super-silly proud of myself. I mean…I DID it! And I don't want to discount that effort, because it was huge. But the thing is…I could have done better, and I disappointed myself because, well, I knew it. I didn't disappoint myself with my actual performance on race day. I felt I did as best as I could with what I had to work with. It was the months leading up to it. I'd spread myself too thin. I'd committed to too many races, too many events and I didn't focus on any of them. When it came to the triathlon, if I was being honest with myself, which I was,  I'd kind of made it an after thought, piecing together my training and I hadn't given the distance the respect it deserved. I felt like I KNEW there was so much more I could have done.
Remember what Mom and Dad used to say? If at first you don't succeed (or succeed in the way you'd like to) try, try again. So… I'm doing it again. And this time. I'm planning on doing it right. Consider it a do-over. Now, I don't know if I'll do any better at it, but that's beside the point. The point is, I'm going to be true to the training and make it a priority. That way when I get out there and compete, I'll know I did everything I could. And THAT is why I'm repeating this particular goal.
And then we can talk Iron Man…..maybe!
Have you ever taken a 'do-over'? Would you like one? What are you training for right now? Join me??

Comments