The Body That Showed Up
Posted Mar 15 2013, 2:05 pm in bad run, elena aitken, Real Life, Tri Me, triathlon training, triathlon training for real women, when training sucks
I actually struggled with posting this or not, but…finally I decided I should (obviously) because training for an event isn't always flowery sunshine runs and personal bests and high fives. Sometimes…
Tri training is in full swing and for the most part it's going well and I'm enjoying it. And that's always the ideal thing to say, right? When someone asks you how it's going, you're not going to say, "Terrible. It sucks. I hate every minute of it."
Because quite honestly, if you hate it that much…you shouldn't be doing it.
But what if, just maybe…you don't love it ALL the time? What if you have a day where you can't remember why you're doing it? Why you're putting your body through all the crap that you're putting it through and you're ready to throw in the towel? What if you have a day like that?
I ask because, well, I had a day like that on Wednesday. It started out well, I woke up early and did my leg weight routine (I've recently added in some much needed strength training) then I hit the pool for my tri swim. That was okay. Not great, but not bad. In fact, the day was going well until the evening when I had to meet my triathlon training group for a scheduled hill interval run. (Maybe you've already spotted the problem.)
I would like to preface what I'm about to say by first mentioning that I don't usually squeeze so much into one day. But I was under the weather on Monday causing my entire schedule to be condensed. (hmm…maybe you've spotted another problem.)
I hit the treadmill and the warm up went great. Time for the first hill interval… Incline of 6, speed set at 7.5. For 2 minutes.
Possibly the longest two minutes of my life. (Except for all the intervals that came after that!)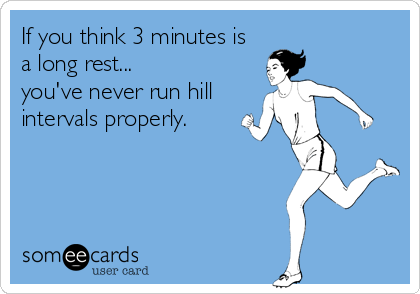 Finally when the two minutes was finished and our trainer said, "jump!" I jumped and proceeded to try not to throw up or pass out. But hey, it was the first interval. It would get better. Right?
Wrong.
Now, I believe that training of any sort is largely mental. In fact, I honestly believe that depending on your own fitness level of course, it's about 80% mental, and 20% physical. It is a rare day when I can't make my body do what I want it to do. But on Wednesday night, I could NOT make my legs move. Not for anything! Every interval (we alternated between 2min and 90seconds intervals with 3 min rest) got worse until I was pretty sure I'd fall on my face, throw up and/or pass out, not necessarily in that order.
In a word…torture. And hands down, the worst run I have ever done.
If I'd been alone, I probably wouldn't have finished. As it was, I ended up decreasing the incline and the speed just to get through it.
I left that workout pissed off. I was so angry at myself for not being able to complete the workout properly. I really, really hate it when my body won't cooperate.
It took me awhile for her words to sink in, but something my trainer said to me during that run from hell has finally resonated. And maybe if you ever have a crappy run/ride/swim/insert activity here, you can remember this.
"You have to train with the body that shows up."
The body that showed up for that interval hill workout, wasn't good. In fact it was SO far from good. It was tired, it ached, it was slow. But…that body showed up! And guess what? It will again. And that's all I can do. Show up.
So come on… I know I'm not alone here. Tell me about your worst workout. Trust me, it's actually sort of cathartic.
Comments