Take it to the Trail: Hiking with kids
Posted Jul 17 2012, 11:01 am in drawing free, elena aitken, elena author, exploring with kids, get moving, hiking, hiking tips, hiking with kids, Life with kids, mountains, Real Life
I LOVE the mountains. And lucky for me, I'm fortunate enough to live right on their doorstep.
As a child, we spent a lot of time driving through two national parks to get to our family cabin, where we spent a lot of time in and surrounded by the mountains. But we didn't take much time stopping to explore the sights on the way. (My dad was more of a, just get there, kinda guy.) So now that I'm all grown up with a family of my own, I'm determined to show my kids (and myself) some of these amazing places that up until now, I've only driven by.
**Disclaimer – I am NOT a back country expert. Nor, am I a hiking expert. I hike with my kids, we like to explore the mountains and we've learned a lot about what to do and not to do over the years.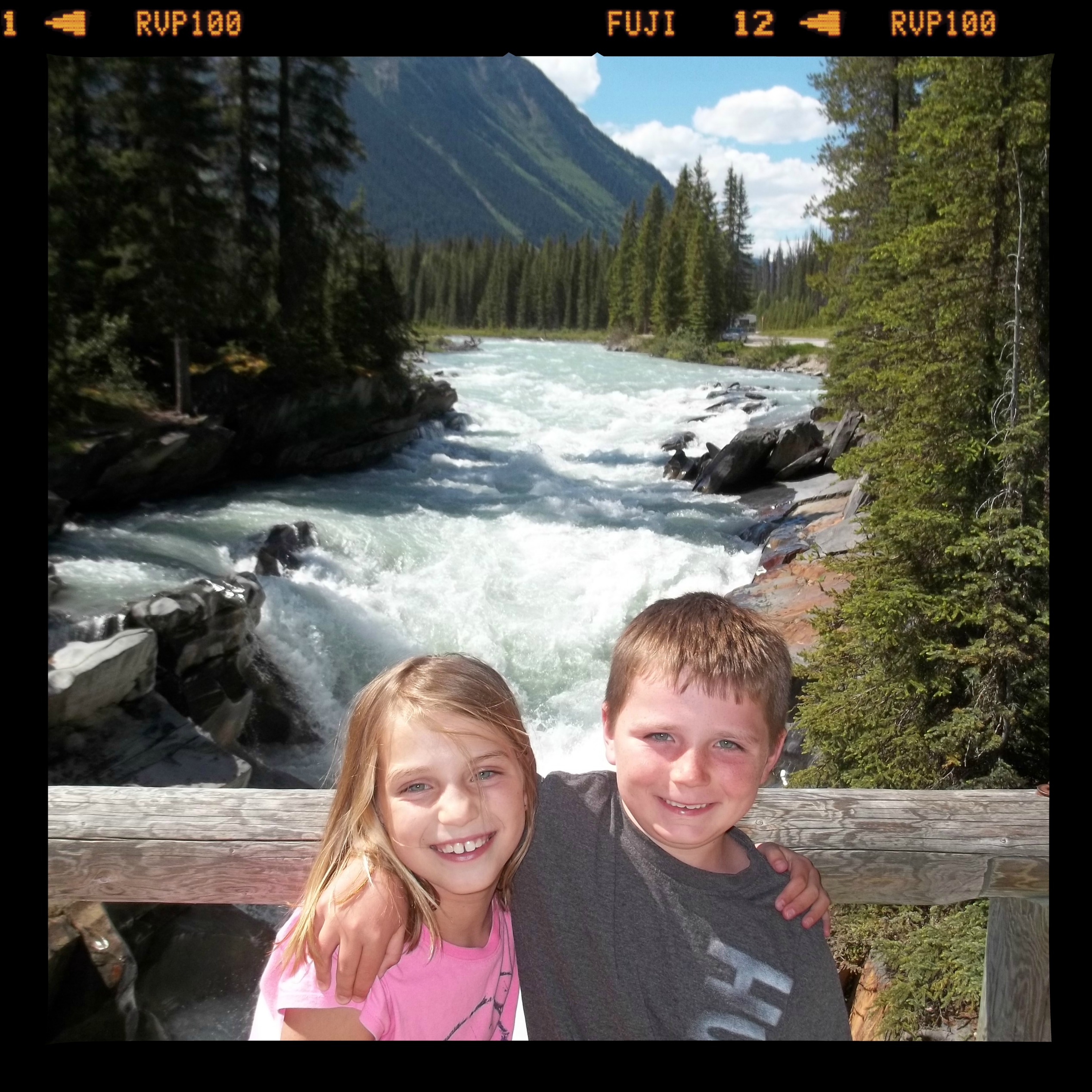 Hiking is a great way for a family to get exercise together and explore the outdoors. Plus the opportunity to share some incredible experiences together is priceless, and you never know what will happen on the trial. Here are a few things I've learned over the years (some the hard way) that will hopefully inspire you to get out there and make your experience a little easier when you do. The first tips I have are the safety tips. The Basics…
1) Have a plan. I like to know how long the hikes are and what the degree of difficulty is before we stop and get started. Depending on the area you're in and how busy it is, it's also a good idea to tell someone else where you're going and when you expect to be back. Maybe this is over cautious…but better safe than sorry. Especially if you're hiking on your own with kids, like I usually do.
2) Shoes. Unless you're planning on doing some back country trekking (remember, I know nothing about that) then I don't think hiking shoes for your kids are totally necessary. In my personal opinion, they grow out of them so quickly that a stable shoe with a good tread is usually enough. No flip flops.
Also, socks. Don't forget socks. I did this on the last hike (hey, it's a lot of work getting everything organized!) And yes, the one thing I forgot was my own socks. I made the decision to hike without them. I don't recommend this. I'll be dealing with the blister recovery for a few more weeks yet. Yup, it was THAT bad.
3) Water. Always take more water than you think you'll need. Even if you're only planning on going for a little trial walk, take water. You never know when you'll decide to head up a different trail to explore some water falls and your five minute 'walk' turns into a two hour hike. Hey, it happens. Also, make sure to check if the water in the area is safe for drinking. One of our favorite parts of hiking to glaciers is the streams that flow off the snow pack. The water is very refreshing to top off your bottles with. But don't do this unless you're totally sure it's safe for consumption.
4) First Aid. Always, always, always travel with a first aid kit. It doesn't have to be much. But band-aids are a must. Tweezers can also come in very handy for random splinters. I like to take just the basics, but others feel more comfortable with a full arsenal of supplies. Up to you. But whatever you do, restock the kit after each trip so you don't find yourself with killer blisters and no band aids (see above, OUCH!)
5) Bear Bells. It's always a good idea to be aware of the wildlife in the area and take the proper precautions. Bear bells are supposed to alert bears (and other animals) to your presence and scare them off the trail. I've heard recently that animals are becoming used to this noise, and it's no longer effective. I don't know if that's true or not, but they can't hurt. The kids and I usually sing and make our own noise as well. Depending on your area, you may feel more comfortable carrying a can of bear spray too. I'm thinking about getting some, only because there have been a large number of bear sightings in the area this year.
Okay…now for some more 'kid specific' tips that I've learned from my own personal experience.
6) Get them involved. I always like the kids to help me choose the hike we're going to do. They feel more invested, like it was their decision and are usually more excited about heading out. I don't give them free range however, I usually narrow it down to a few that are in our experience level and then let them decide. Also, they tend to need a 'destination' to hike to. Give them some waterfalls, a glacier or a cool lake and they're in. They're not nearly as excited about wildflower fields, or loop trials.
7) Start young. I've had friends say things like, "I can't wait till my kids are older and we can do that too." And to them I say, "Start now!" As long as your child can walk, they can hike. Now, let's be reasonable here. Obviously you wouldn't take a two year hike up to a glacier, but get them excited about the small trails around the picnic areas and soon enough they'll be ready to try longer routes until one day you can hike up to a glacier. I think my kids were five or six the first time I took them on an 'all day hike' up a mountain.
8) Make it fun. Sometimes my kids don't need any encouragement to run up the mountain, but other days…I've done a few different things to make the hike extra exciting. A scavenger hunt is still a favorite. If you're good at planning ahead, you can do up some cards on the computer with various things that the kids have to find (ie. a smooth rock, a pink flower, a squirrel) But…you can also do this last minute too, by scribbling some items on a piece of paper. My daughter also likes to take a wildflower identification card on our treks to see how many flowers she can spot. And of course, sing! We're not good singers, but it's lots of fun to belt out 'wandering songs' or even make up your own. We may have even made up our own rap once, although thankfully there is no evidence of this.
9) Pack it. Have your kids carry their own pack, or at least their own water bottles. There is nothing more annoying than constantly stopping to dig into your pack for a water bottle. Plus, it can add a lot of time onto a trip. Carrying their own pack is also a great way to teach your kids that everyone needs to pitch in to do their part. if we don't all have our own pack, we all take turns carrying the one we have. And everyone is responsible for their own water.
10) Be open. One of the most amazing and unexpected benefits of hiking for me has been learning about my kids. When you're walking for hours, your kids will open up and start talking. Be ready to listen. I have learned so much about them on these treks and we have had some of our best chats as we wonder through the woods.
Those are my tips. I'm sure I missed a bunch and like I said, I'm NOT a back country hiker, or even a hard core hiker. We're recreational explorers. It works for us and I hope it'll work for you too. If I've missed something, let me know and I'd love to hear about your hiking experiences as well.
P.S. My novel Drawing Free is a finalist in the E-Festival of Words competition. Winners are determined by popular vote and I'd LOVE it if you'd take the time to log in and vote for my little book. Click HERE.
Comments