Going for the Moment
Posted Oct 25 2016, 1:11 pm
Don't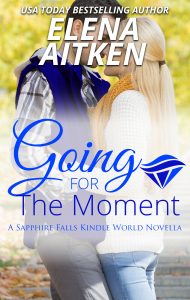 miss out on Elena Aitken's new novella, Going for The Moment!
Available now only on Amazon US for $1.99!!!
This book is a part of A Sapphire Falls Kindle World Novella!  Don't forget to check out the other amazing books in this Kindle World!!!
Amber McCormick has always lived a well ordered life. She's made sure of it. Now, with a new college degree in hand, she decides to take a few days to visit her best friend in Sapphire Falls before starting the next phase of her life. It's perfect timing too, since for the first time in her life, Amber's no longer sure of her plan.
However, a mix up in timing results in her crashing with her best friend's wild—more than a little rough around the edges—brother and Amber suddenly finds her predictable life turned upside down.
Taking a break from the backcountry of Australia, Cole Price is home to visit his little sister. But he definitely wasn't prepared to find her very attractive and very tightly wound best friend, Amber there instead.
Stuck together for a few days, they decide to make the best of the mix up and take in the town's Fall Festival. All Amber wants is to have a little fun and maybe even lighten up a little bit. The last thing she expects is to be attracted to a man like Cole, and she's definitely not prepared to actually fall for him. Now after only a few days, Amber's questioning everything she ever thought she wanted and what she really needs.
Comments