Fitness Funk? Find your Focus
Posted Jan 10 2012, 9:51 am in bestie, elena aitken, excercise inspiration, fitness focus, fitness funk, fitness goals, goals, hot yoga, Inspiration, light bulb moments, running, triathlon, yoga
It's the second week in January which means millions of people across the world have revved up their exercise routines and the gyms are packed to the rafters.
People are excited about exercise again. Their goals have been redefined and they're raring to go.
So why was it that I found myself firmly in the middle of a full on fitness funk?
Yesterday, figured it out…
Over the years, I've discovered one very important fact about myself. I am goal oriented. Give me a goal, and I will achieve it. (or make a really valiant effort) I need to see a finish line, a light at the end of the tunnel. I don't do well with generalizations like, 'get in shape'. What does that even mean? I need something to shoot for. In the past that's usually been a race. I've trained for first a 5km, then a 10km, then a 1/2 marathon, then a triathlon. If I've signed up for something, committed to doing it, I'm going to do it.
The problem is, I currently don't have a race to train for. My next race isn't until the end of May which gives me way too much time to make excuses. Over the last month I found myself unmotivated, quick to make excuses, and feeling generally 'blah' about the whole thing.
And then yesterday, two things happened.
1) I went for a run. This in of itself is not unusual. But on yesterday's run with my training buddy and bestie, something shifted in my brain. We were talking about goals and how neither of us had a Holy Shit goal this year. I was blaming my lack of goal setting for my general apathy towards exercise and then I realized, Wait a minute. Why do I NEED a new and different goal? I love running. So why not focus on that? Do what I love." And knowing me and my oh so slightly competitive nature, I'll do everything I can to create a new personal best in the process (hey, I am who I am) But the whole thing was such a basic concept, but one I couldn't see because it was too close.  My first lightbulb moment of the day – Focus on doing what I love. And love doing it.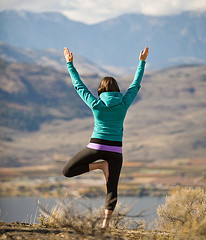 2) Later that night, I went to hot yoga with another fabulous bestie. Because of Christmas craziness it had been almost a month since I'd been to class. I missed it. I'd been looking forward to it all day. At the beginning of the practice the instructor/yogi, tells us to set an intention. It can be a spiritual or physical intention. Whatever you need. My intention was to just be there in the moment (this is difficult for me as my mind wanders…a lot!) and to refocus on my body to rediscover my fitness mojo. The Yogi we had for last nights class is tough. She challenges our bodies and our minds and after four weeks off, both my mind and body got exactly the workout they needed! Somewhere between high plank, downward dog and frog (ow!) something clicked for me. My second lightbulb moment  of the day – Focus both on what my body AND my mind need.
Such simple concepts, but I'd lost sight of them. Sure, exercise is good for the body. Yes, I need it to stay healthy. BUT, my mind needs it too. I have a tendency to get wrapped up in my thoughts, overwhelmed by day to day life and the voices characters in my head. Exercise clears that out for me. It's me time. Time for me to connect with myself and leave everything else behind.
I woke up this morning feeling good (and yes, a bit sore). But I'm ready to focus on what my body and mind need and I'm going to love doing it! And if it doesn't fit that very simple criteria…it's out.
How about you? Any light bulb moments when it comes to your exercise/fitness routine? Why do you do the activities you do?
Comments