Don't be hating on the Crock-Pot
Posted Nov 13 2012, 11:36 am in busy with kids, crock pot chicken, elena aitken, elena author, healthy crock pot, Life with kids, quick chicken meal, Real Life
Busy is the new normal, right?
It certainly is around here. And I don't know very many people who aren't crazy busy trying to juggle kids activities, jobs, personal lives and don't even mention personal time…
Anyway, I don't know about you, but we have a few nights a week where our family is going in a million different directions and we pass on the street as we try to juggle pick ups and drop offs. On those nights, a family dinner is absolutely out of the question. But just because we can't eat together, doesn't mean that I don't want my family to eat a healthy meal. Especially since the kids need to spend hours dancing and swimming. I mean, they need the fuel to keep their bodies going. Filling them full of processed, straight out of a box and onto the plate food is not an option. So, for us, it's the crock-pot.
Now, now, don't be a crock-pot hater! Hear me out…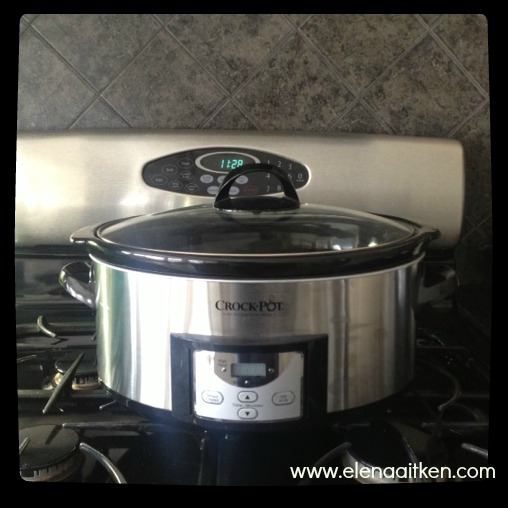 I know the crock-pot gets a bad rap. And a good friend of mine insists that everything that comes out of her crock pot is grey or brown, tasteless mush. But I swear, it doesn't have to be that way. In fact, I'm always on the search for yummy, easy crock-pot recipes that aren't full of processed ingredients. No 'cream of something' soup for me. No thanks. I still want to put in whole ingredients to get a wholesome meal in return. I sometimes use seasoning packets which I know, I know, aren't always the best. But really, I try and keep it clean.
Don't believe me that you can make yummy food in a crock-pot? I've had some friends ask for this recipe, so I thought I'd share it with all of you.
It's so easy, you can't not make it.
We call it Crock-Pot Chicken (Creative, right?)
*Begin this recipe the night before*
4 teaspoons of salt (I almost always use less)
2 teaspoons paprika
1 teaspoon cayenne powder
1 teaspoon thyme
1 teaspoon white pepper
1/2 teaspoon garlic powder
1/2 teaspoon black pepper
1 large roasting chicken
1 cup chopped onion
-Okay, this is all you do. Combine all the spices in a bowl and rub them all over the chicken. Be generous—really rub it in there. And pour some spice into the cavity of the bird too.
-When you're done giving the chicken the spice massage, put it in a large ziploc bag and stick in the fridge overnight.
-The next morning, place four aluminum foil wads in the bottom of the crock-pot, toss some onion in the bottom and stick the chicken onto of the aluminum balls.  DO NOT ADD ANY LIQUID
-Cook on low for 8-10 hours and Voila! The chicken will be falling off the bone. Remove the skin before eating. YUM!
Seriously, try it. And then let me know…
So what do you think? Are you a crock-pot hater or lover? Better yet, do you have any yummy and healthy crock-pot recipes for me?


Oh, wait…Before you go…
I'm getting ready to launch some exciting stuff. So, if you don't already hang out on my Facebook page, make sure you head over there and 'Like' it. Starting in December I'm going to be doing a 'Twelve Days of Christmas" book giveaway of some of my favorite books from 2012. You'll have a chance to win everyday. But only if you're a Facebook fan.
And don't forget to sign up for my newsletter because newsletter subscribers will be getting a gift of their own!
Comments